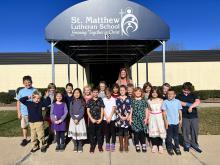 "A new command I give you; Love one another." John 13:34
Moby Max is a K-8th grade standards-aligned learning platform that teachers can use to assist with differentiated and classroom learning goals. Through this program, classrooms can earn "reward points" for achieving classroom goals. 
Two weeks ago, our second grade learned that they had earned $20 through their Moby Max Rewards program. The company encourages teachers to use these Reward dollars as an avenue of celebration for particular milestones that the class accomplished.