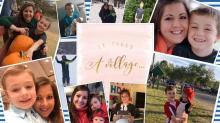 Last week, after all of the news and prayers regarding Braedon had begun, our school received a very sweet compliment from a mom who is new to St. Matthew this year. She said to me, "What a special community this is, Mrs. Palka!"
And indeed, her perception is correct! When Jesus is in the center of relationships... powerful things happen! During this past week, it's like we have been watching a modern day version of the Book of Acts unfold, as a community of believers gathered together to love, support, and earnestly pray for Braedon.
 
I can't even begin to tell you how endearing it is being frequently asked by students and parents, "How is Braedon doing?"
 
Listed below is the Facebook update that Braedon's mom posted and has given me permission to share:...