Sixth graders explore historical accuracies of both Old and New Testaments as they grow in God's grace through key concepts of repentance, forgiveness, and grace, and are encouraged to put these truths into action in their lives.  God's Word is studied and several of the Six Chief Parts of Luther's Small Catechism are the basis for memorization and practice in students' daily walk in Christ.  Literature students develop and employ critical thinking skills as they learn to analyze text and compose their rationale in written form.  Daily practice of traditional English grammar is utilized.  Students explore the fundamentals of algebra and problem solving in mathematics.  Scientifically, sixth graders examine Life, Earth, and Physical sciences using our hands-on Battle Creek Science Curriculum.  Using the concepts of history and geography, the sixth grade geography curriculum introduces students to various societies and cultures of the Western Hemisphere in ancient, middle, and modern times.  Students investigate land mass, location, and economic and political influences on the peoples of this region. Grades six through eight comprise our Upper Grades; these classes benefit from academic departmentalization among our Upper Grade staff.
Ministry News
Posted:
September 26, 2017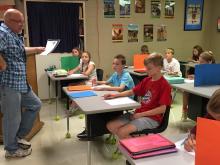 Each week, we will highlight one particular grade level, just to share the awesome things that God is doing in our classrooms.
 
Two weeks ago, it was a very exciting in sixth grade as each student received his/her own individual Chromebook.  For the past two years, St. Matthew has implemented a "One to One" device program starting in the sixth grade.  St. Matthew shares the cost with parents for a Chromebook, and at the end of 8th grade, each student will get to keep his/her device. Students are responsible for bringing their individual Chromebooks to school every day fully charged and ready for classroom instruction.
Our middle school language arts program is designed as a Google classroom where their Chromebooks will allow them to learn how to effectively utilize and incorporate technology to be innovative 21st century learners.  Eventually, a Google classroom becomes paperless as students learn to manage their assignments utilizing the Cloud and working collaboratively with each other and their teacher.