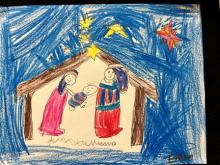 "And they went with haste and found Mary and Joseph, and the baby lying in a manger. And when they saw it, they made known the saying that had been told them concerning this child. And all who heard it wondered at what the shepherds told them. But Mary treasured up all these things, pondering them in her heart." Luke 2:9 - 12
When I was a brand new teacher serving at my very first Lutheran school in Reed City, MI, I was blessed to work with an older woman who served as a wonderful Christian mentor in my life. Living on my own for the very first time, she would frequently share cooking advice, medical advice, and just practical everyday advice. But when a young man named Ken Palka started visiting, she started sharing advice regarding Godly relationships. However, one thing that I remember her asking me was, "Tell me about his relationship with his mother, because I've always said, "Watch how a man treats his mother, and that will be a very good indication of how he will treat you."" As I watched Ken treat his mom with Godly respect, genuine compassion, tender patience, and unconditional love, I knew this guy was a catch!
Throughout our marriage, my friend's words would frequently come to mind, as Ken's behavior would prove her theory correct time after time. I knew that Ken loved me dearly, but I also knew that his heart still held a very special place for his mom. In return, Ken's mom was a powerful prayer warrior and would frequently remind us that through every illness, challenge or problem, she was praying for all of us.
Seven years ago, Ken's dad experienced a horrific aortic dissection, and only by God's grace, the entire family was able to gather at the hospital and speak with him before his emergency open-heart surgery. Ken's dad's last words to Ken were, "If anything happens to me, take care of your mother", a directive that Ken faithfully obeyed after his dad's death.
With her condo located just minutes away from Ken's office, Marilyn (Ken's mom) would enjoy cooking for his staff by sharing pots of her famous soups for everyone to enjoy, especially during long tax seasons. Often when he worked on Saturdays, Ken and his mom would meet for lunch and catch up on grandchildren and current events. During most conversations, Marilyn would always find a way to remind her five children that she prayed for each of them every day.
Last Tuesday, Marilyn became very sick. A trip to the hospital confirmed her illness, but the medical staff felt that home was the better option of care. Somehow, God revealed to Marilyn that her remaining days on this earth were few, so she requested a private meeting with each of us last Friday, where she shared her heart one last time. During my conversation with her, I told her about my Reed City mentor's theory, and how grateful I was for the Godly man that she raised. I also thanked her for all of her prayers, and reminded her that this time, we were all lifting her up in prayer.
Early Sunday morning, Marilyn went to Heaven to be with Jesus. Yet despite our grief, there is such a sense of joy and peace, knowing that she is in the Lord's presence.  There lies the beauty of the Christmas story! We celebrate the birth of our Savior, who died for our sins, so that we could spend eternity in God's presence!
We are currently in the church season known as "Advent". For Christians, Advent is a season of preparing to celebrate the coming of Jesus' birth. So many facets of Christmas require time and thought, but nothing is more important than preparing our hearts for the true reason of the season and focusing on the birth of our Savior.
This week, we have two endearing Advent worship opportunities that will be led by students of St. Matthew Lutheran School.  Please join us this Friday in the gym at 6:30 p.m. as our Preschoolers and Kindergarteners share the powerful message of "A Night Like No Other!"  In addition, the students in grades 1 - 4 will lead two worship services on Wednesday, December 14, at 9:30 a.m. and 7:00 p.m. entitled, "Christmas Around The World". The 9:30 a.m. worship service is designed as a "Special Guest Service", where all students are encouraged to invite someone special to attend this service. If your child would like to bring someone, please RSVP your guests by signing up HERE.
May the hope, peace, joy, and love of this Advent season fill your heart beyond all measure... and don't forget to call your moms or special women in your life and tell them that you love them!
In Jesus' Love,
Mrs. Palka