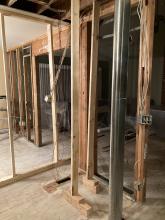 "Therefore, if anyone is in Christ, he is a new creation. The old has passed away; behold, the new has come." 2 Corinthians 5:17 
For years, one of my ultimate favorite television stations has been HGTV! From "Home Town" and "Fixer Upper" to "Love It Or List It", I could sit and watch these home renovations shows for hours and just dream of the potential our thirty year old house held. All I was waiting for was that perfect "Let's do this!" moment.
It actually was Ken who opened this door of opportunity when he suggested a few months ago, "What would you think if we turned the front room into a home office for me?" That's all it took for my dreams to finally get some legs and start sprinting down the aisles of Home Depot!
In a famous children's book entitled, "If You Give A Mouse A Cookie", a little mouse starts with one delicious cookie, but it just leads to more and more wants and needs. I keep joking that this "office project" is evolving into a similar "If You Give Ken An Office" story, because what started as an office has now evolved into a major home renovation project because… once we replace the floors, then we might as well remove a couple of walls, and now that we've removed the walls, we'll need to paint, and when we paint, then we will want new furniture, and so on and so on!
So for the past few weeks, in order to prepare for yesterday's "demolition day", I've been sorting and removing nineteen years of "stuff" that has collected since we first moved in. What a shock it was to walk into the house yesterday after work and find the first floor of our beloved home taken down to the studs! The old carpet was stripped to the plywood, the old wood floors had been sawed away, bare walls only showed shadows where cabinets used to adorn them, and only a frame of a major wall remained. However, for the new version of this house to occur, this removal process was absolutely necessary. The old worn and stained items had to be removed in order for the new version to appear!
In a similar fashion, our human and sinful natures also needed a serious "make- over". God knew that we needed a Savior, and He loved us so much that He sent His one and only Son, Jesus, to come to this earth so that He could perform the ultimate "demolition day" and conquer sin and death by dying on the cross for our sins. Through Jesus, the old sinful stains have been removed, and we are a new creation! The whole reason for Christmas is that our Savior needed to be born so that He could die for our sins.
The church season of "Advent" began this week. For Christians, Advent is a season of preparing to celebrate the coming of Jesus' birth. So many facets of Christmas require time and thought, but nothing is more important than preparing our hearts for the true reason of the season and focusing on the birth of our Savior.
One exciting way that we would like to encourage and invite families to attend to start their Advent celebrations is by attending "Donuts with Pastors" this Saturday morning! During this delicious event, families will assemble their very own manger/gingerbread houses, while eating delicious homemade donuts and listening to our Pastors read stories that share the true meaning of Christmas.
This will be a very enjoyable event for the entire family, and we hope to see you there!
Wishing you a very blessed Advent season!
In Jesus' Love,
Mrs. Palka