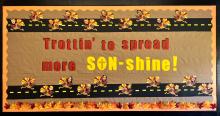 "A new command I give you; Love one another." John 13:34
One news report recently shared: It's been nearly a month since Hurricane Ian changed lives forever, and many people still need to figure out where to live.
In Lee County, the use of mobile homes or travel trailers is being allowed as temporary housing for people repairing their permanent homes. And you don't have to look far to see how many are doing just that.
"It's comfortable. I mean, we're blessed that we have this."
In a Wal-Mart parking lot off Colonial Boulevard, the sound of generators can be heard and rows of RVs can be seen as hurricane victims try to find shelter in mobile homes.
And at the Love's gas station, near I-75 and Bayshore you'll find RVs and tents. But the people inside are not only homeowners who have lost their homes, but workers looking to help.
"We go fill our 55 gallon drum up with water here at the Love's and fill the tank, take our quick little showers and a bunch of gas in the generator. It's just become routine."
Throughout southwest Florida, there currently are tens of thousands of people who are still displaced as a result of Hurricane Ian, many who are elderly.  In addition, it is estimated that approximately 10,000 people remain in shelters. Although these stories are no longer the top priority being shared on the evening news, the significant need has not disappeared.
For the past twelve years, St. Matthew Lutheran School has hosted an annual "Turkey Trot" as an avenue for students to provide assistance regarding a critical circumstance or those who are in tremendous need. Two weeks ago, our fifth grade held a very successful Bake Sale, and all proceeds were given to LCMS Disaster Relief. However, because the devastation in Florida is so horrific and the need is so great, this year's Student Council has selected to continue to help victims of Hurricane Ian to make them the recipients of this year's Turkey Trot proceeds. Continuing with the theme of "Spreading SON-Shine Over Florida", the Student Council will host our 12th Annual St. Matthew Lutheran School Turkey Trot on Friday, November 18th. All funds that are raised will again be given to LCMS Disaster Relief, who is currently using these funds to provide meals, shelter, and building materials to those who were affected by Hurricane Ian.
Students in Preschool through Grade 8 are encouraged to collect pledges from family and friends for the number of laps or time that they will run during the Trot. Then, on November 18, all students will run (trot) around our school soccer field during a designated time of the school day (Preschool through Grade 4 will "trot" from 9:30 - 10:00 a.m. and Grades 5 - 8 will "trot" from 10:15 - 10:45 a.m.).
We are looking forward to partnering with LCMS Disaster Relief to assist them to carry out their mission of "Helping the hurting amid disaster". To begin this process, students can start by collecting pledges. Today, pledge sheets will be sent home with each student. To obtain a new pledge sheet, please click HERE.
As a special bonus, anyone raising over $50 will receive a free T-shirt with this year's "Love Is Everything We Need" logo on the front as well as our "Spreading SON-Shine Over Florida" logo on the back. (Please know that these shirts will be delivered two weeks after the Turkey Trot). We are asking that students please bring their completed pledge sheets and collected funds to school on Friday, November 18. In addition, those students who run the most laps and the student that earns the most money will have fun decorating a Student Council member. What does this mean? Stay tuned for details but it may involve something VERY messy!
So, driven by this year's school motto of "Love Is Everything We Need", we are asking God to help us accomplish great things in His name, and we look forward to God blessing this effort to help us "Spread SON-Shine Over Florida"!
In His Love,
Mrs. Palka