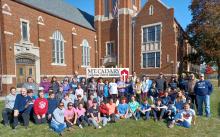 "Truly I tell you, whatever you did for one of the least of these brothers and sisters of Mine, you did for Me." Matthew 25:40 
Last Friday was such a fun and exciting day as our students in grades 5 - 8 served God in so many powerful ways!
The day began with our 6th - 8th graders traveling to Detroit to work with Camp Restore Detroit, a local non-profit organization that is driven by the mission to "restore hope in local neighborhoods". Students worked at one of three sites: an urban garden, neighborhood park, or at the house of a community leader and her neighbor. Each location provided students with numerous opportunities share the love of Jesus through their hard work and actions.
Listed below are just a few of their insights and reflections:
"I am going to do a lot more mission trips!" Leo, grade 6
"This experience opened my eyes to the fact that a lot of people are less fortunate than me are, and we should share God's love to everyone, because all people are equally loved by God."   Caitlin, grade 7
"I learned that putting in the effort to do something important can lead to great results." Nick, grade 8
"I was actually excited to help and clean things up! I was happy to see the before and after!" Lily, grade 6
"I learned that you can show God's love in many ways. I would have never thought that planting garlic in the middle of October would have such a positive impact on the surrounding neighborhoods." Mia, grade 7
"I learned to thank Him more for what I have and to help others like Jesus did." Christian, grade 8
Then, God provided the ultimate "grand finale" to this amazing day when our 5th grade hosted their "Spreading SON-Shine Over Florida" Bake Sale during our dismissal process. Driven by passion to help victims of Hurricane Ian, our fifth graders worked diligently to sell over 400 delicious delicacies during our school dismissal process, as well as after Sunday worship services. At the time of this publication, this event has raised $7,856.93! However, with the additional 50% match from Thrivent, this amount increases to $11,785.93! It is our prayer that this amount will be a tremendous blessing to those Floridians who are in need.
This year, as we are motivated by our school motto: "Love Is Everything We Need", we rejoice for how our young disciples are showing God's love with others!
In His Love,
Mrs. Palka