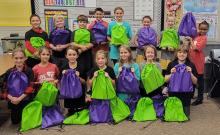 "Truly I tell you, whatever you did for one of the least of these brothers and sisters of mine, you did for Me" Matthew 25:40 
216 rulers, pencil sharpeners, scissors, and erasers
864 spiral notebooks
1,080 pens
1,080 pencils
5,184 crayons
 
One successful outreach project that will bless 216 children in need of school supplies... Priceless!
  
The excitement was exuding from the fourth grade classroom and spilling into the hallway as the fourth graders were filling school kit bags last week. Since August, collecting school supplies for needy children has been our first school wide outreach project, and we are happy to partner with Lutheran World Relief in this endeavor. 
The emotional elevation continued to intensify when the fourth graders realized how close they were to exceeding our school goal of 182 school bags. This joy and enthusiasm caught the attention of one of our new 6th graders as he was walking down the hallway. When he heard one of the fourth grade packing teams announce that they were short ink pens, without hesitation, Preston stated that he had three pens on him that they could have, as he immediately handed them to the fourth graders. Afterwards, he went down to his locker and retrieved two more, and donated them as well.
Two days later, we received five bags of additional supplies, along with a note from Pastor Paul's daughter, explaining that her daughter, Helen, also wanted to help kids who did not have school supplies. As a result, for her birthday, she asked her friends to bring donations of school supplies instead of gifts for her!  
There is nothing more endearing than to witness passionate young disciples motivated by the love of Jesus help those in need!
Many thanks to all of our school parents for your tremendous generosity regarding this endeavor. As a result of your kindness, 216 children will have the supplies needed to support their academic journey.  
Love is everything we need! We thank you for your loving generosity!
In Jesus,
Mrs. Palka