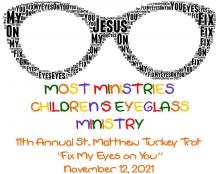 11th Annual St. Matthew Lutheran School Turkey Trot
"Whatever you do for the least of these, you do unto Me." Matthew 25:18
If you have ever needed to wear corrective lenses, do you remember the first time that you received your first pair of glasses? It was my third grade teacher who caught on to my tricks of squinting and pulling my eyelids back towards my ears, which were very effective ways that helped me to see the chalkboard with much more clarity. Sure enough, my teacher was a genius when she recommended to my mom that I may need my vision checked! I failed the eye examination at the ophthalmologist's office and was fitted for glasses that very same day. A few weeks later, we went back to pick them up, and as I walked outside for the very first time wearing them, I felt like I was in that transitional scene in the Wizard of Oz when things amazingly transformed from black and white and into spectacular color! I saw things that I had not seen in a very long time! I could see birds in the sky, buds on trees, street signs with words, and letters on license plates! I had become so accustomed to my failing vision that I had no idea what I was missing. There were so many blessings that came with my new glasses, but the largest was that my parents could afford to purchase them for me!
The gift of sight is such a blessing. Yet, one million children each year suffer from poor vision. In addition, in developing third world countries, for a family of four making an average of $4.00 a day, a pair of eyeglasses can be the equivalent of a year's salary. As a result, large segments of this population live with vision problems that adversely impact their education, employability, and quality of life.
MOST Ministries (Mission Opportunities Short Term) is a Christian non-profit organization that connects, trains, and sends short-term mission teams throughout the world; one of their numerous mission opportunities is their eyeglass ministry.
MOST Ministries seeks donations of used eyeglasses. Then after cleaning and assessing prescription strength, they send missionary teams to some of the poorest countries in the world operate "Eyeglass Clinics" where members of communities and villages can be fitted for corrective lenses. St. Matthew Lutheran Church has sent numerous ministry teams that have served on MOST eyeglass teams. In fact, two of our teachers, Mr. and Mrs. Topel, traveled to India six years ago to serve on a team!
Last year, MOST Ministries dispensed more than 10,000 pairs of eyeglasses through its short-term mission teams. In addition, and, most importantly, MOST Ministries provides all eyeglass recipients the opportunity to hear the Gospel message while they are being fitted for their glasses.
Furthermore, for the past ten years, St. Matthew Lutheran School has hosted a "Turkey Trot" to allow all students an opportunity to help those who are in need. This year's Student Council has selected to help children who are suffering with poor vision by supporting MOST Ministry. With the theme of "Fix My Eyes On You", the Student Council will host our 11th Annual St. Matthew Lutheran School Turkey Trot on Friday, November 12.
Starting today, students in Preschool through Grade 8 are encouraged to start collecting pledges from family and friends for the number of laps they will run during the Trot. Then, on November 12, all students will run (Trot) around our school soccer field during a designated time during the school day. All proceeds collected will be given to MOST Ministries to be used for deploying future Eyeglass teams.
In addition, MOST Ministries also accepts used eyeglasses, so we will collect used those as well. (Please know that we are instructing children that they must ask parental permission before donating any eyeglasses!) The Student Council will also track the number of pairs of glasses our student body can collect! Please send in any old adult or child eye glasses in a zlplock bag marked "Turkey Trot".
Donations will be accepted until November 30th.
Let's help MOST Ministries with their mission to help children around the world "Fix Their Eyes On Jesus" and see things more clearly! To begin this process, students can start by collecting pledges. To obtain a new pledge sheet, please see a teacher, or stop by the school office.
As a special bonus, anyone raising over $50 will receive a free T-shirt with this year's Turkey Trot logo on it. (Please know that these shirts will be delivered two weeks after the Turkey Trot). We are asking that students please bring their completed pledge sheets and collected funds to school on Friday, November 12.
So, "We Are On Our Way" to asking God to help us accomplish great things in His name, and we look forward to God blessing this effort to help us encourage others to "Fix Our Eyes On Jesus"!
In His Love,
Mrs. Palka