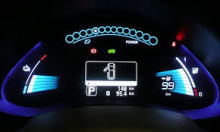 "Be still and know that I am God."       Psalm 46:10
Have you ever experienced an issue with your car that only seemed to happen when you are driving it, but as soon as you take it to the dealership, the issue mysteriously disappears?
For the past few months, my car has developed an odd habit that only seems to occur when I am sitting in the driver's seat.  At least once every few days, while the car is in motion, the interior lights will suddenly turn on and the automatic driver's seat will unexpectedly move backwards.  At first, this was quite alarming as I found myself moving away from the steering wheel while the car was in motion!  When I have passengers that witness the unexpected chain of events, they are often startled as they watch me slowly move backwards as they are speaking to me. Sometimes, it is even comical to watch passengers' reactions as I try to nonchalantly act like nothing wrong is happening. However, what's frustrating is that every time my husband takes it to the dealership or a mechanic... it NEVER happens!